Artist background
My Journey with the Ocarina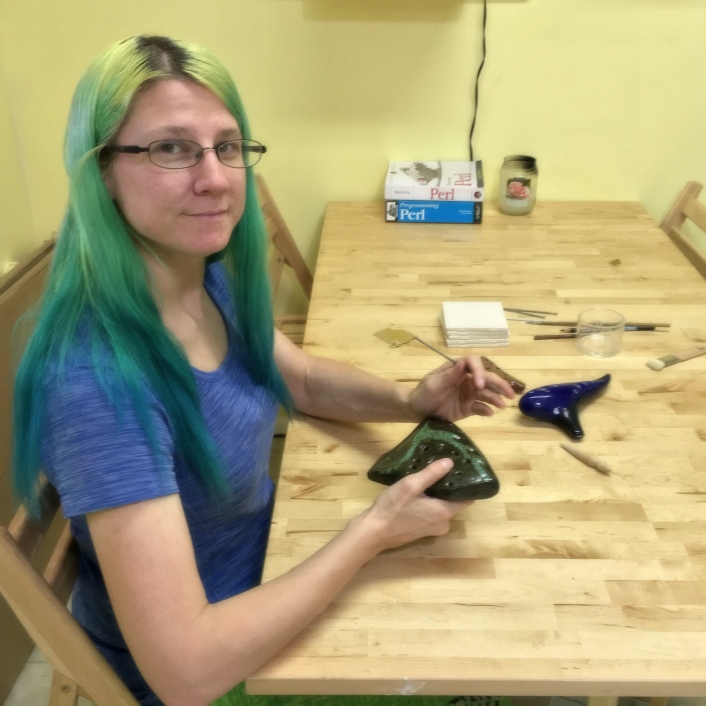 I was raised in a small farming town in Florida. Without a whole lot in common with the farm kids, and with the encouragement of my family, I developed a passion for art and music, and (with not so much family encouragement) video games, my first game being the original Legend of Zelda. It's no surprise that when I spotted an ocarina at a Renaissance festival the year after Legend of Zelda: Ocarina of Time came out, and I had to have one.
I enjoyed playing it but, faced with the distractions of entering adulthood, I never really made enough time to play. Years later I began to play more seriously and found that this newly discovered dedication to the ocarina enabled me to understand musical concepts that had always been just a bit beyond my grasp. I've become a firm believer that the ocarina is the perfect instrument for people like me who want to learn music but may have no practical access to proper instruction and must teach themselves. All of this has given me the desire to make ocarinas more accessible to everyone, and it was that conviction that inspired me to learn to make them.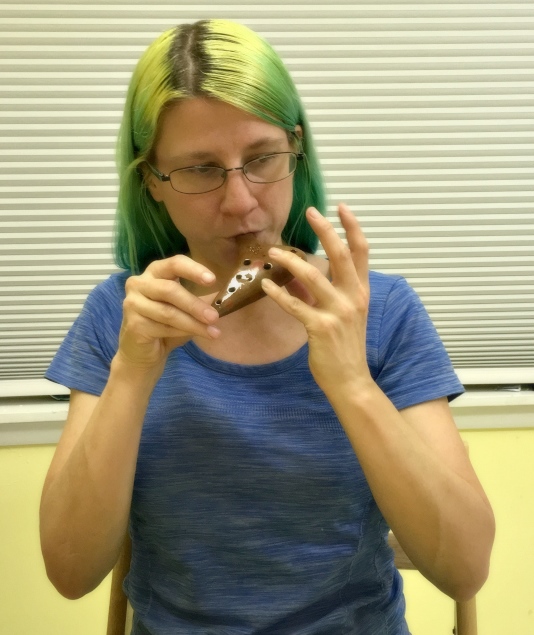 A family friend, ceramic artist Anna D'Aste, then took me under her wing. With her guidance, I ultimately succeeded in making some good sounding ocarinas and even produced and sold them through her gallery. Sadly, though, the death of a close family member put a halt to production for an extended period. Meanwhile, I began volunteering with Adoption Related Services of Pinellas, a nonprofit dedicated to helping at-risk fostered and adopted children stay with their families. My role at ARSP included running a childcare program based around the making of simple ceramic vessel whistles. Anna continued to tutor me, and I learned more and more of the fine art of pottery making, particularly developing a love for decorating pottery. Gradually I began offering repair and decoration services to the ocarina community, and purchasing ocarinas just for the fun and experience of refinishing them. I still make an ocarina here and there, but mostly find joy in the finishing work.
I am an architectural drafter by profession and enjoyed designing homes for a local architectural firm. Unfortunately, the housing market crashed in 2006 and I was laid off from my dream job. I then began working in environmental engineering, but as the next decade wore on, I found myself more and more stagnating in limited and not-so-interesting assignments, with my free-time pottery work becoming my only reprieve. As the company I worked for began to deteriorate, I finally resigned in early 2016 with the blessing of my family.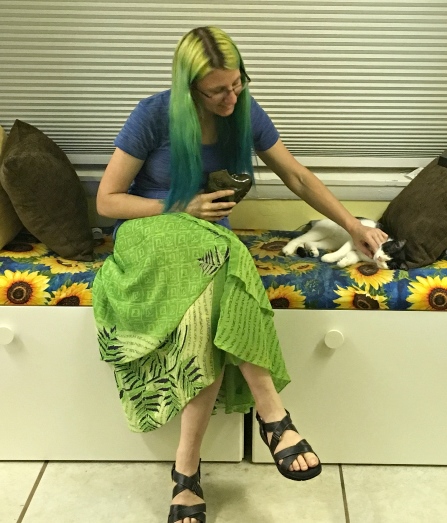 I have since been putting my efforts into renewing my architectural knowledge (especially in redesigning and restoring our home), learning to program, and doubling-down on refinishing ocarinas. While attending the 2016 U.S. Ocarina Festival, I got to talking with friends about my dream of making my ocarina finishing service more visible and available to the ocarina community. ICO's name naturally came up since the 'Bull' ocarinas are my go-to ocarinas for refinishing as well as playing. ICO and Song Wei share my passion for making quality and very affordable instruments more widely available. In addition, Song Wei was willing to provide unfinished purple clay ocarinas that are the perfect blank slate for my painting and glazing ideas. So I got in touch with Bill of ICO, and here we are!
Tina Hardison
.....