Tooling Around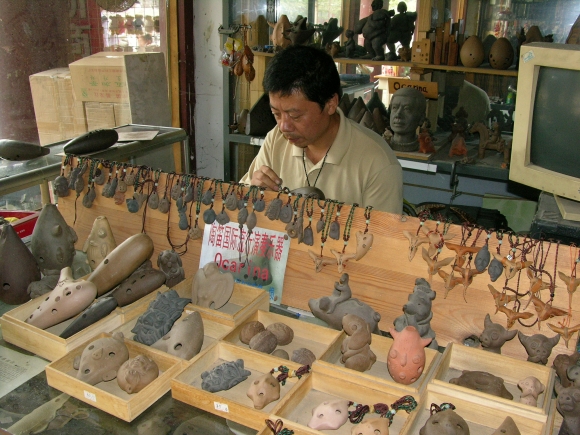 What's New Around the Shop?
An ocarina maker can be quite happy spending all day every day just cranking out his products. But an ocarina artist needs a few more creative outlets.Over at Song Wei's shop, it seems like there's often something new going on.
For instance...
In March 2013, Song Wei started producing the super compact soprano double chamber ocarinas in F and G. Soon afterwards, he brought the double alto mini in C into production. The Double AC Mini has especially become a favorite for players wanting something pocket sized and easy to tote around, yet having the range of a double chambered ocarina.
In May of 2013, he began making available the double bass in C, for those satisfied with the range of a double yet wanting a bass. At that time, bass doubles were not that commonly available from other sources.
Anyway, we thought you might be interested in knowing about some of Song Wei's latest ideas and experiments. See below. Feel free to get in touch with us about any of these. We'd value your feedback.
And how about you? Got any wild ideas of your own you'd like to see Song Wei try? Or something custom you'd like him to put together for you? Drop us an email! info@imperialcityocarina.com
**************************************************************************************************
August 2016
Adding a 5th chamber is an obvious way to shoot for max range for those looking for a 4-octave ocarina. But the hand jump required to switch between the 4th and 5th chambers is not ideal. The 5th chamber adds a little extra weight as well. Why not go back to a quad and see if we can find a few more notes?
So Song Wei built a Crazy Range Quad.
Not much engineering genius... just taking advantage of all note-adding opportunities. And I have to give credit to Isaac Ingles who made the suggestions leading to production of this ocarina. The result was a range covering A3 all the way to C8 (same range as the quintuple chamber). Basically we added a thumbhole on the underside of all 3 upper chambers which added 3 extra notes. One more note was gained by making the pinkie hole on the 3rd chamber into a full diatonic note rather than a half-tone. And this required addition of a 3rd-chamber subhole (middle finger position) to pick up the half-tone between the 2nd and 3rd chambers. Finally, we added a double hole at the index finger position on the 3rd chamber,
as is commonly done on the 2nd chamber.
A few comments: C8 is about as high as an ocarina really should go. While it's possible to go higher, the notes above C8 rapidly lose their musical appeal, becoming thin, airy, and extremely shrill. In my opinion, an ocarina playing above C8 would not be called "music" by most people hearing it!
Adding thumbholes shouldn't be a problem for most quad players. We get a lot of requests for Osawa fingering which moves the B/C hole on the 2nd chamber to the underside of the ocarina. With our Crazy Range Quad, we maintain the index finger double-hole configuration which the Osawa fingering loses.
The extended range of each of the upper chambers means less chamber switching, with a full octave range in both the 2nd and 3rd chambers. Also, all 3 upper chambers begin on an E (all main holes covered), which may help in some cases since playing a melody one octave higher means simply going to a higher chamber without changing fingerings.
September 2015 Quintuple Chamber in C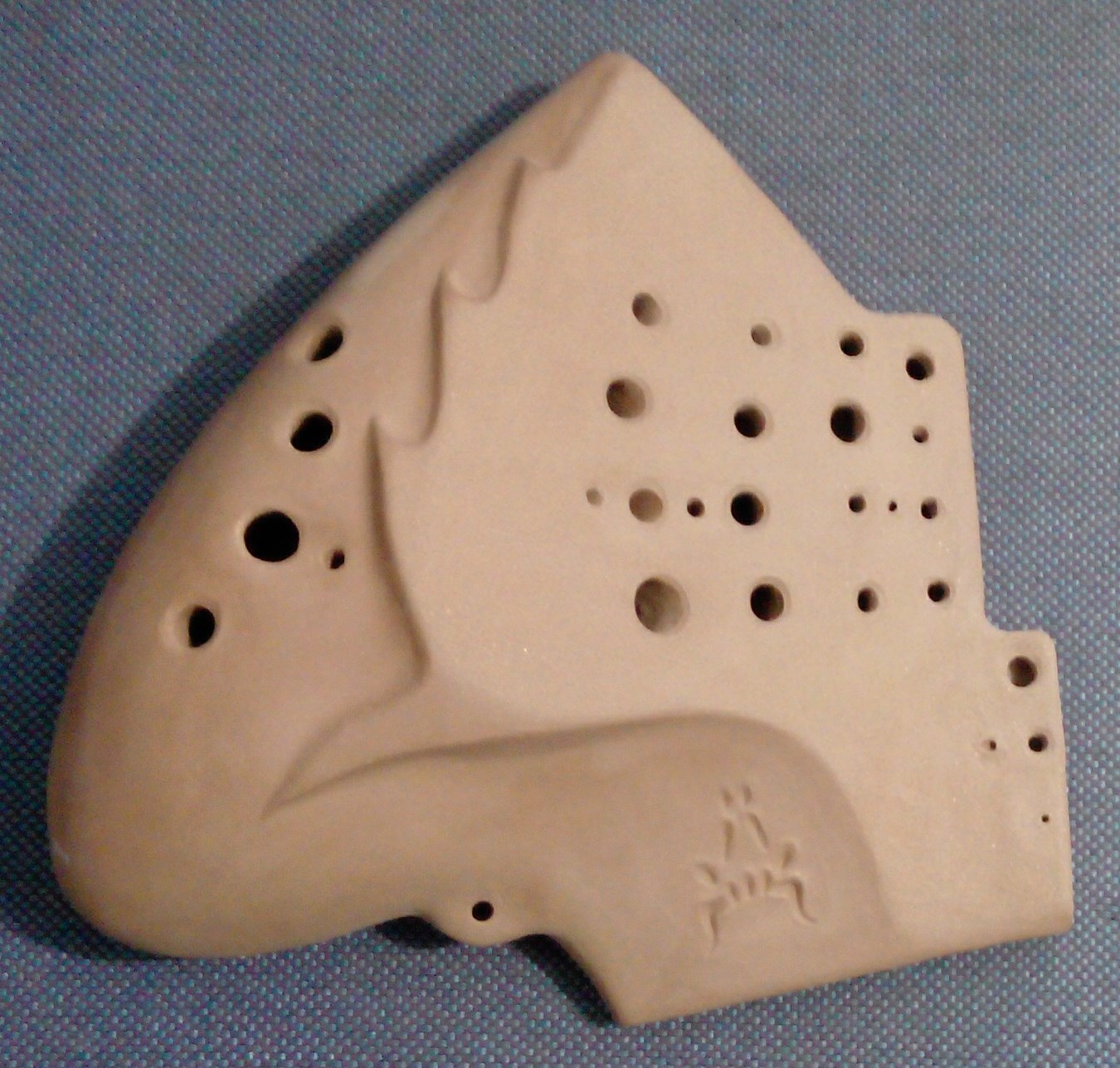 Wow, 4 and 1/8 octaves, from B3 all the way to C8! I thought we might dub it "the piano" but when I asked around, people told me that there's already this huge boxy wooden thing with strings inside and keys that you press with your fingers... apparently, they've been calling that the piano for a long time. So, that name's out!
Actually, Song Wei is not the first to do this. But I don't know if anyone has commercialized a quintuple chamber before. Not saying he'll be offering it as one of his products any time soon! Might be hard to find a buyer!
This is Song Wei's first, right after firing with no wax surface treatment. I just thought it be fun to put a pic here to give you look see.
November 2013 The G Quad
OK, we love the Quad BC because of that incredible 3.5-octave range. But we have to admit, it's a little large for smaller hands. So, why not start the oc 4 diatonics higher and key it in G?... the first chamber winds up significantly smaller and the top right-hand face is now something almost any adult can reach across!
Though we can't say nobody's ever made one of these - likely somebody has - but we haven't been able to locate them for sale anywhere else. This one you might have to check out!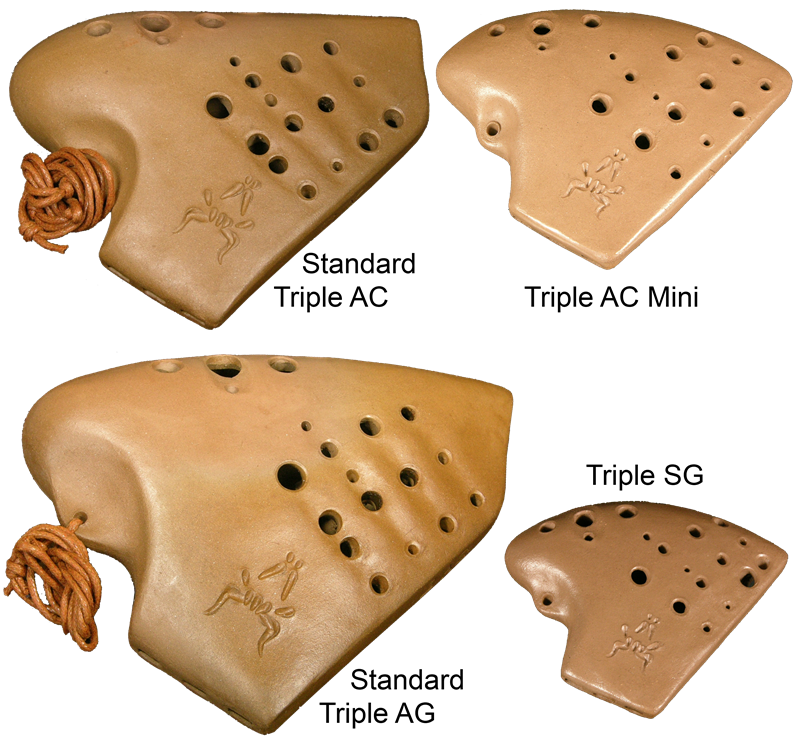 June 2013 Mini Triples
In a recent challenge from a customer, Song Wei put together a soprano triple in G and an alto triple in C. These two amazing creations are quite small, especially the SG triple. The picture shows the two in relative scale next to a close cousin for comparison.
The Triple AC Mini plays the same notes as the standard triple AC, yet made compact for portability and having a slightly lower breath requirement.
The range of the soprano G triple runs from E5 to an incredibly high D8!
Are these the first of their kind to be produced in the ocarina world?
May 2013 Left Hand Pinky Hole
Is the left hand pinky finger hole really necessary on multi-chamber ocarinas? This question arose because a customer requested a special order triple with no left pinky hole on the first chamber. Uncovering the left hand pinky hole plays an accidental that is not often encountered. For instance, in a C ocarina, uncovering the left pinky hole plays a D#/E

. But, of course, with multi-chambered ocarinas, this note is duplicated in the second chamber by covering the small hole of the middle finger (along with the other holes of the second chamber).
So, what's the point? The vast majority of the time, the ocarina player finds that the left pinky finger just sits there covering a hole while all the other fingers of the right and left hand are busy creating music. This can lead to a fatigued left hand pinky and simply one more hole to worry about fully covering. So, it might be kind of nice to omit this hole from the ocarina altogether and just go to the second chamber on those rare occasions when the D#/E

is needed.
On the other hand, maintaining duplication of the D#/E

accidental (on a C instrument) in both chambers provides the player with the luxury of not having to switch chambers, at least on certain, quite uncommon, occasions. Perhaps another argument for maintaining the left pinky hole on multi-chambered ocarinas is that this hole is needed on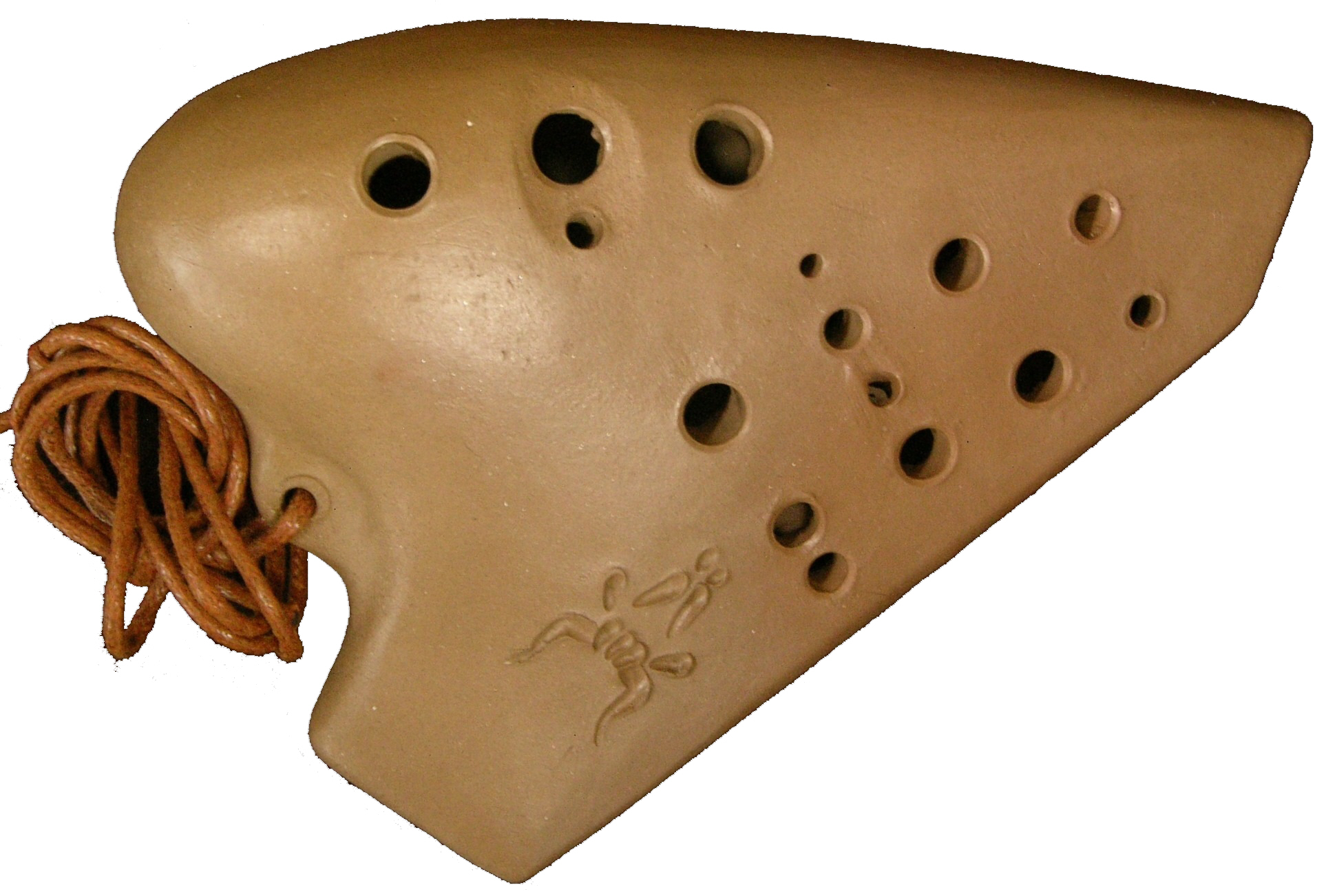 single chambered ocarinas. Why not, therefore, maintain the pinky hole on all instruments so that players can more comfortably transition back and forth between singles and multis, simply because the left hand pinky stays in practice no matter what they're playing?
Just for fun, here's a picture of an alto double C without the pinky hole. It looks pretty much as you'd expect... same as the conventional, except without the hole. Now, picture yourself playing something like that!
The Chinese xun has undergone changes over the centuries, but mostly in adding more holes to increase the note range. Basic shape of the instrument and the essentially circular shape of the windway opening has remained unaltered. The challenge of playing the xun has similarly gone unchanged. A disciplined embouchure is required to direct air flow in just the right way across the opening. The lowest notes quickly yield to the half-way serious beginner, but the highest notes require a tighter embouchure that comes often with no small amount of practice.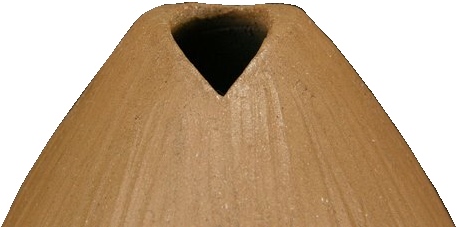 Song Wei may be changing the field for xun players, however, with his new innovation featuring a notched windway opening shaped like his ocarina voicing windows. Now, the highest notes on these new xun are much easier to achieve. Practice is still required, but the high notes are not nearly as demanding as with the traditional design. In late February, Song Wei was awarded a China patent for the new design. Congratulations, Song Wei!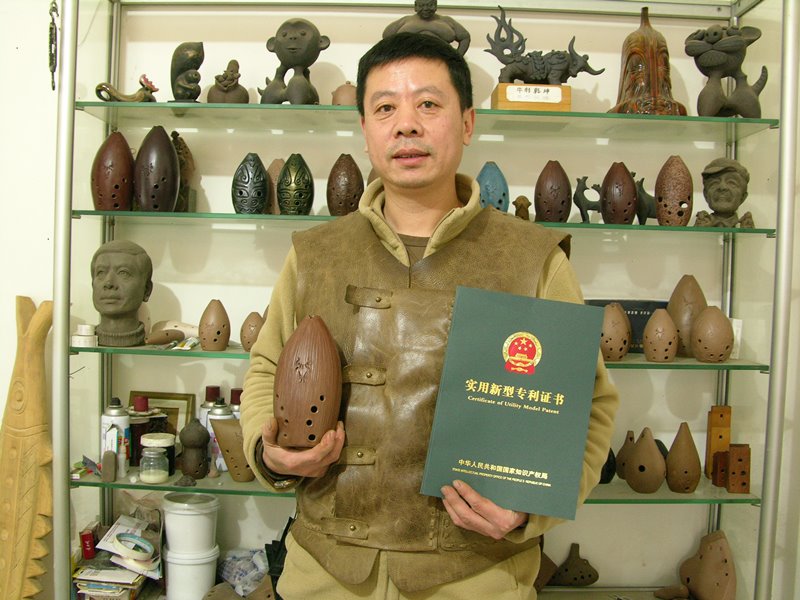 May 2014
That is One Big Xun!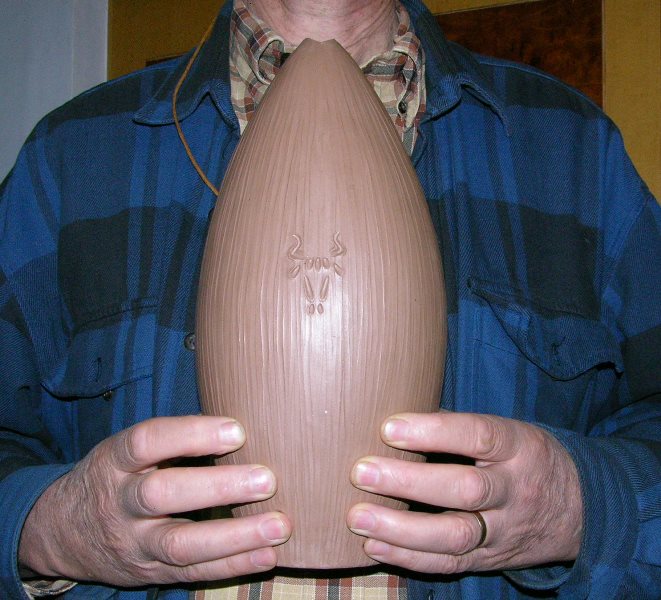 Our xun BG already plays in the bass range, beginning lower than the lowest note playable on a typical bass C ocarina. But the customer wanted Song Wei to take this xun down by yet another octave!
The result was a
Contrabass Xun
, with a note range from G
2
to B
3
. Not only playing some notes hard to find in the xun/ocarina world, this xun was 29 cm long (11.4 inches) and weighed 1700 g (3 lb 12 oz). Now, that's starting to get seriously big! Surprisingly, though, it wasn't nearly as difficult to manage as one might guess. Song Wei put a cord hole on the back side. With the neckcord tightened up a bit, the neck provides some support, taking weight off the hands.
.....