Fine purple clay ocarinas by Song Wei, China's master craftsman
Sometimes quality is found in surprising places, away from all the chatter and bustle of the crowded and noisy marketplace… in the quiet and uncomplicated serenity of a small shop, a master artisan creates in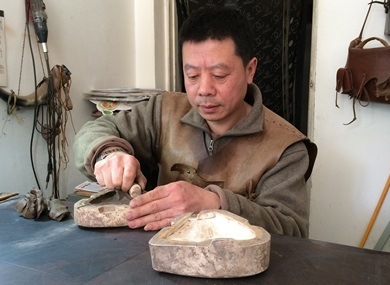 unfettered freedom. No daily output quotas, no bottom line business pressure. Just the patient shaping of purple clay, each instrument piece fashioned individually by skilled and seasoned hands.
A pause to chat with a walk-in visitor, offering a few playing tips for the beginner… a drop-by visit from an old friend and veteran player who picks up an ocarina and fills the shop with wonderful sound.
Welcome to the world of Song Wei and ICO!
More than ocarina making, this is where the sounds of beautiful ocarina music are born.
12-Hole Ocarina Series Multi-Chambered Ocarina Collection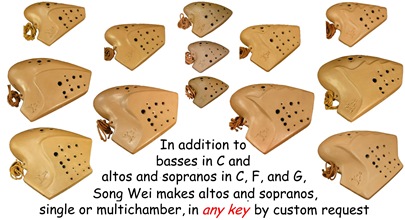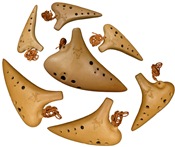 11-Hole Contrabass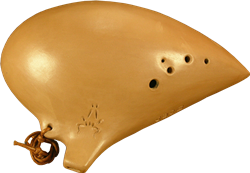 11-Hole Xun
11-Hole Dragon Xun
Have you taken a serious look at ICO?
Read more about

purple clay

and why Song Wei prefers it for his ocarinas.

Before you buy, check out our

quality and tuning

standards or understand the

design and performance features

of the ICO Bulls.

ICO has made high quality affordable in the ocarina world, especially with our basses, triples, and the quad. You can certainly spend a lot more... but do you need to? Read how we

keep prices low.

Customizing... Got an idea not currently in our product line? Ocarinas in uncommon keys... Japanese style fingering... extra toneholes... Song Wei can do it all! Get in touch and we'll see if we can make it happen for you!

For the U.S. and a limited number of other countries, some

extraordinarily low shipping costs

when shipping direct from China! Details in Shipping and Returns (bottom bar of any page).

Personalized

customer service

and a

returns policy

that puts you first... one that we have faithfully and consistently stood by.
Listen to one of our triple chamber alto ocarinas in a well-known Chinese melody called Wind in the Meadow.
Have a look around the store and by all means get in touch if you have any questions.