Contrabass Ocarina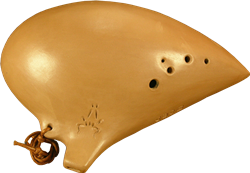 With that same mellow purple clay sound, this contrabass plays an octave lower than a conventional bass in C, just dipping into the 2nd octave. Special features and things to consider are as follows:
Available contrabass ocarinas typically are 10-hole instruments. ICO's 11-hole adds a subhole not only to extend the range slightly, but also to provide a complete set of fingerings for all sharps and flats through the range of the ocarina.
The contrabass is a low breath pressure instrument, to be sure. Consequently, breath control is important and can be slightly more challenging than higher pitched ocarinas. The lowest 2 notes (C3 and B2) are quite soft.
At over 1.1 kg (more than 2.5 lbs), the weight of this instrument may take some getting used to.